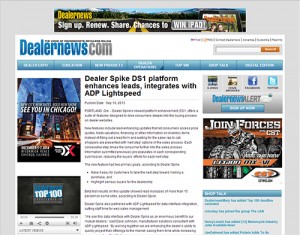 PORTLAND, Ore. – Dealer Spike's newest platform enhancement, DS1, offers a suite of features designed to drive consumers deeper into the buying process on dealer websites.
New features include lead-enhancing updates that let consumers access price quotes, trade valuations, financing or other information on inventory items. Instead of filling out a lead form and waiting for the sales rep to call, shoppers are presented with 'next step' options in the sales process. Each consecutive step drives the consumer further into the sales process. Information submitted previously pre-populates in each corresponding submission, reducing the buyers' efforts for each next step.
The new feature had two primary goals, according to Dealer Spike:
Make it easy for customers to take the next step toward making a purchase, and
Highlight serious buyers for the dealership.
Beta test results on this update showed lead increases of more than 15 percent on some sites, according to Dealer Spike.
Dealer Spike also partnered with ADP Lightspeed for data interface integration, cutting staff time for web sales management.
"We see this data interface with Dealer Spike as an enormous benefit to our mutual dealers," said Dave Johnson, manufacturer solutions consultant with ADP Lightspeed. "By working together we are enhancing the dealer's ability to quickly project their offerings to the market, saving them time while increasing accuracy and profitability."
DS1 enhancements also enable Dealer Spike to offer integration with more than a dozen other dealer management systems.
Starting in November, the DS1 enhancement suite will feature a simple SEO updating tool that lets dealers edit keywords and metadata on pages visited most often by consumers. When used, a pop-up window provides simple entry fields. Dealers can click over to their high traffic pages, such as the New Inventory list page or Service Appointment Request forms, and populate the SEO tool with phrases and descriptions of their offerings to enhance the searchability of these individual pages. 

The release of this tool will come with SEO training for dealerships.
On tap for the rest of the year are features still in beta testing. Those include Kijiji Integration for Canadian dealerships; eBay sales integration
; Event Calendar module updates
; Hiring/Career page enhancements; a resume upload feature
; Trade Value form updates; an image upload feature
; and Lead Volume historical reports by model.