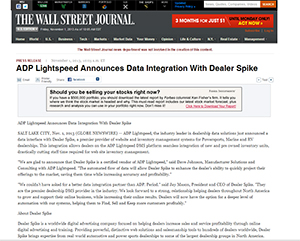 SALT LAKE CITY, Nov. 1, 2013 (GLOBE NEWSWIRE) — ADP Lightspeed, the industry leader in dealership data solutions just announced a data interface with Dealer Spike, a premier provider of website and inventory management systems for Powersports, Marine and RV dealerships. This integration allows dealers on the ADP Lightspeed DMS platform seamless integration of new and pre owned inventory units, drastically cutting staff time required for web site inventory management.
"We are glad to announce that Dealer Spike is a certified vendor of ADP Lightspeed," said Dave Johnson, Manufacturer Solutions and Consulting with ADP Lightspeed. "The automated flow of data will allow Dealer Spike to enhance the dealer's ability to quickly project their offerings to the market, saving them time while increasing accuracy and profitability."
"We couldn't have asked for a better data integration partner than ADP. Period." said Jay Mason, President and CEO of Dealer Spike. "They are the premier dealership DMS provider in the industry. We look forward to a strong, relationship helping dealers throughout North America to grow and support their online business, while increasing their online results. Dealers will now have the option for a deeper level of automation with our systems, helping them to Find, Sell and Keep more customers profitably."
About Dealer Spike
Dealer Spike is a worldwide digital advertising company focused on helping dealers increase sales and service profitability through online digital advertising and training. Providing powerful, distinctive web solutions and salesmanship tools to hundreds of dealers worldwide, Dealer Spike brings expertise from real-world automotive and power sports dealerships to some of the largest dealership groups in North America. Dealer Spike is the fastest growing provider in the industry today, boasting a client list that has grown fourfold in the last three years. www.dealerspike.com
About ADP Lightspeed
ADP Lightspeed, based in Salt Lake City Utah, is a part of ADP Dealer Services, ADP Dealer Services provides integrated computing solutions to over 25,000 auto, truck, motorcycle, Powersports, recreational vehicle, and heavy equipment dealers throughout the United States, Canada and Europe. For more information visit www.adplightspeed.com
About ADP
Automatic Data Processing, Inc. (Nasdaq:ADP), with about $10 billion in revenues and approximately 570,000 clients, is one of the world's largest providers of business outsourcing solutions. Leveraging over 60 years of experience, ADP offers a wide range of human resource, payroll, tax and benefits administration solutions from a single source. ADP's easy-to-use solutions for employers provide superior value to companies of all types and sizes. ADP is also a leading provider of integrated computing solutions to auto, truck, motorcycle, marine, recreational vehicle, agriculture and heavy equipment dealers throughout the world. For more information about ADP or to contact a local ADP sales office, reach us at 1.800.225.5237 or visit the company's Web site at www.ADP.com.