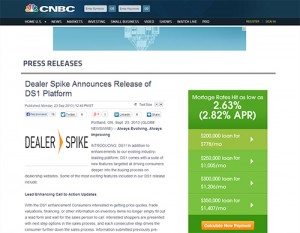 Always Evolving, Always Improving
INTRODUCING: DS1! In addition to enhancements to our existing industry-leading platform, DS1 comes with a suite of new features targeted at driving consumers deeper into the buying process on dealership websites. Some of the most exciting features included in our DS1 release include:
Lead Enhancing Call to Action Updates
With the DS1 enhancement Consumers interested in getting price quotes, trade valuations, financing, or other information on inventory items no longer simply fill out a lead form and wait for the sales person to call. Interested shoppers are presented with next step options in the sales process, and each consecutive step drives the consumer further down the sales process. Information submitted previously pre-populates in each corresponding submission, cutting the buyers' efforts for each next step substantially. Planning for this portion of the project had two primary goals: Make it insanely easy for customers to take the next step toward making a purchase. Highlight serious buyers who are truly ready to make their purchase in the immediate future to dealerships.
Beta test results on this update on dealership websites not just met but greatly exceeded our target lead increase expectations with lead increases showing over 15% on some sites. These increases were in addition to our already guaranteed 30% lead increase over other providers! We have been so lucky to work with a fantastic team of developers and designers to create this project, and we can't thank enough the dealerships willing to try, test, and consult with us on this to help this release surpass our hopes for success.
ADP Lightspeed Inventory Integration
One of the most anticipated features of the DS1 release is enhanced inventory integration for dealerships. Dealer Spike has partnered with ADP Lightspeed, the premier provider of Dealer Management Systems (DMS) for Powersports, Marine and RV dealerships for data interface integration allowing seamless integration for dealerships and drastically cutting staff time for web sales management. From Auto to Powersports, RV to Marine, nearly every top dealership group in the nation uses ADP for their inventory and sales management systems. Rather than try to reinvent the wheel and compete with a tried and tested product years in the making, Dealer Spike chose to partner with the top provider to offer the website inventory integration dealerships have been asking for in the past years.
In addition to integration with ADP Lightspeed, DS1 enhancements also enable Dealer Spike to offer integration with other dealer management systems for seamless, hassle-free online inventory management. We know that well-established dealerships with years of inventory and sales histories built up are going to be unlikely to want to make a switch to a new, untested DMS system putting them at risk for lost sales, lost man hours, and lost customers. When building our inventory enhancements for DS1, our top priority was to give dealerships a way to maximize profitability using their current systems and maintain the highest level of sales possible with zero downtime or maintenance.
Search Engine Optimization Enhancements The DS1 enhancement suite comes with a mind blowing simple SEO updating tool. Built with ease of use for the dealership in mind, this simple tool allows dealers to edit keywords and meta data on the pages visited most often by consumers. When used, the tool pops up a window with simple entry fields right over the dealership's website. Dealers can click over to their high traffic pages such as the New Inventory list page or Service Appointment Request forms and populate the SEO tool with phrases and descriptions of their offerings to enhance the search ability of these individual pages for consumers in their areas.
The release of this tool, slated for early November comes with SEO training for dealerships when the tool is added. One of the major story boarding concerns our SEO team reiterated when building this tool is that it will be too easy for dealers to "keyword stuff," an outdated SEO trick dating back to the early 2000s. With Google's latest Penguin and Panda updates, search engines respond better to well written, human-focused content. Dealer Spike is excited to not only release an industry-changing tool to help dealers better understand SEO, but to use this as an opportunity to re-engage dealers and refocus their efforts on their website content practices to ultimately drive traffic and sales.
Additional Releases
DS1 updates include these releases, currently in beta testing and slated for staggered launches through the remainder of the fourth quarter:
– Craigslist Integration
– Kijiji Integration (for Canadian dealerships)
– eBay Sales Integration
– Event Calendar module updates
– Hiring/Career page enhancements, resume upload feature
– Trade Value form updates, image upload feature
– Lead Volume historical reports by Model